13
January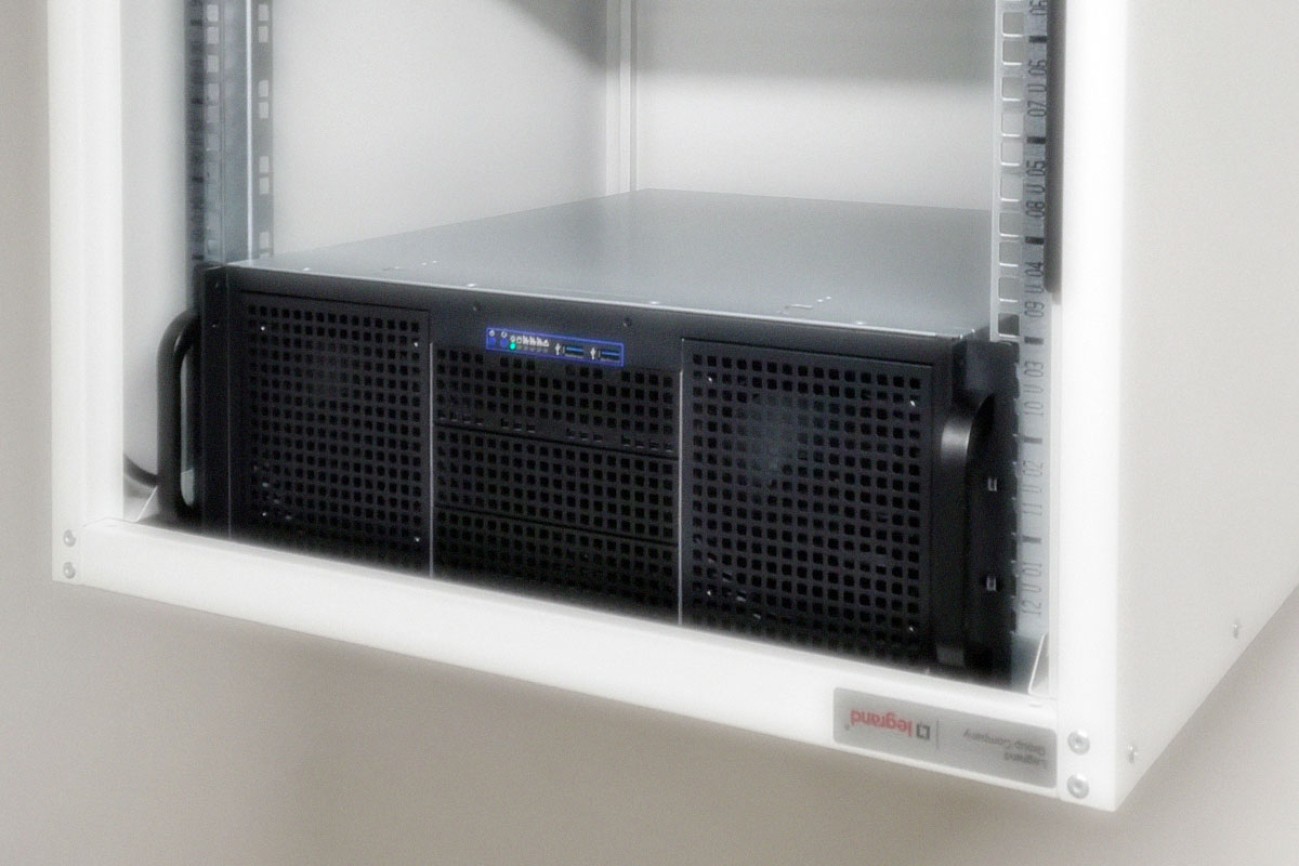 As a huge IT and computer enthusiast already at the age of 12 I've had a wish/goal, that once I have my own home, I will have a rack in the basement with at least 1 server and connectivity across the house capable of 10Gbps+. So when renovating the house, I left cable sleeves in the walls for fibre optic cables. When the renovation started, we were also promised that the internet in the area will also be fibre optics so we can eventually get 2Gbps internet for a reasonable price. Funny how that goes. Almost 2 years after the promise and minor contract, we're still on a sluggish LTE network which never reaches speeds over 50mbps.
Installing a wall-mounted rack in my basement was a long-awaited project that I have been working on for some time. As a web developer and system administrator, I wanted to not only improve the functionality of my network but also have a fun and engaging project to work on in my free time.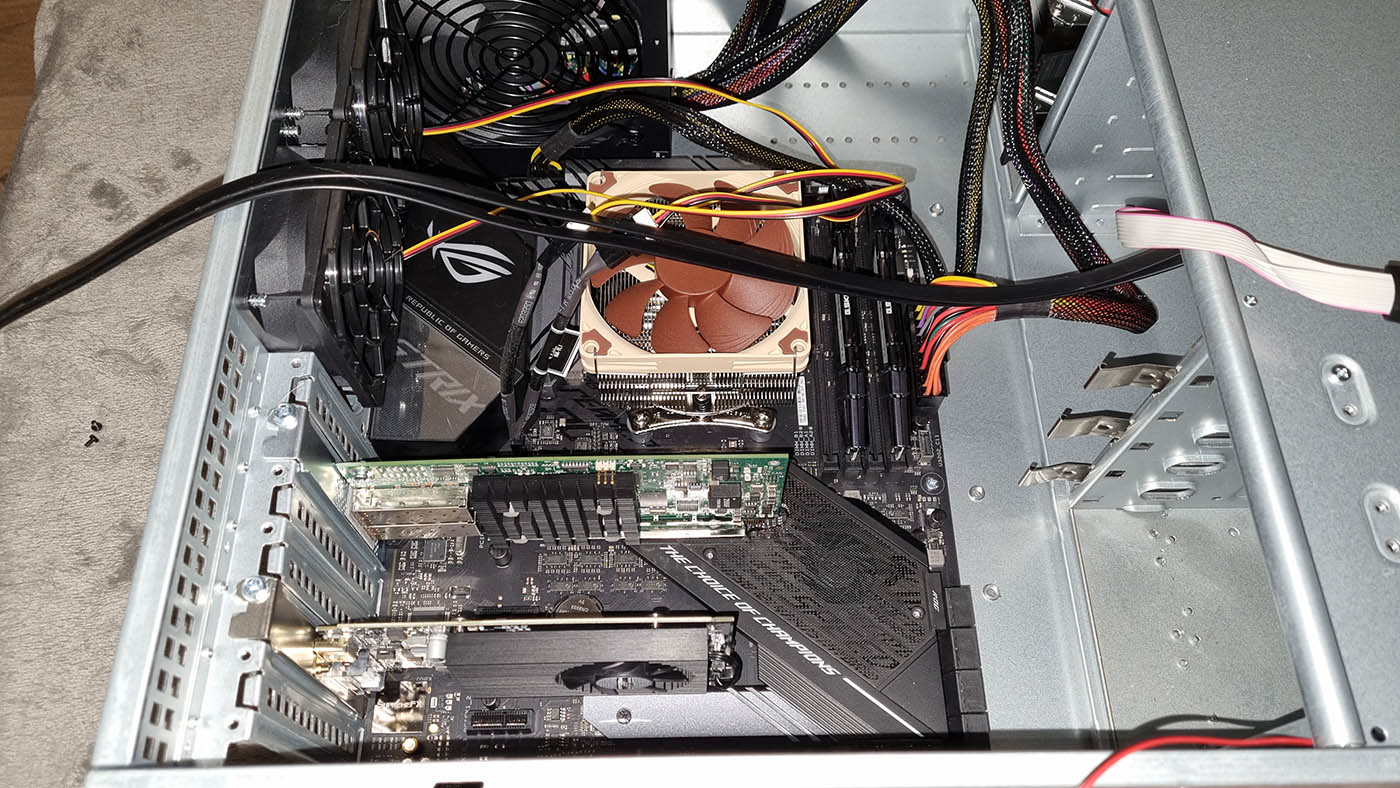 The wall-mounted rack now houses a server that I handbuild using an Intertech 4U chassis. To enhance its performance, I added a Noctua CPU cooler to the system and 4 Noctua fans (2x 120mm on the front and 2x 80mm on the back) to ensure the CPU and the system stay cool. I also installed 64GB of DDR4 RAM and powered the server with an Asus X570-F motherboard running a pretty good 8-core CPU Ryzen 7 5800x. The server also boasts 2x 1TB SSD's Samsung 860, 2x 4TB 7200RPM Seagate drives for storage and 512GB NVME Samsung 960 Pro for system files for fast loading times. Because the Ryzen 7 5800x does not have a built-in GPU, I've had to buy Gigabyte GT 730 graphic card and for the fibre optic LAN/WAN I've used Cisco's Dual SFP+ port NIC VIC 1225.
I connected everything by installing SFP+ modules for my Mikrotik 4 SFP+ port switch + 1 RJ45, which also allowed me to connect ethernet rj45 (Cat6a) cables to the existing Asus Mesh system for high-performance WIFI6 coverage over my home. The server, running as a hypervisor, is now running Proxmox with PFsense as a firewall/router and Ubuntu 22 for Plex, Samba, FTP, NextCloud, Temporary Development Projects, Docker, Kubernetes, TeamCity, Personal Git (Gitea) and more. However, I did run into some issues with Proxmox not allowing other than OpenZFS RAID which I found to be very slow. So, I had to migrate the system to mdadm which now runs very fast. I did read about all the great features of OpenZFS, but with my really bad experience on Windows using DrivePool (which is a great software by itself) with horrible performance and super high RAM usage (yes to me 32Gb out of 64Gb ram just to run RAID 1 storage is a huge waste of RAM) I am just not persuaded.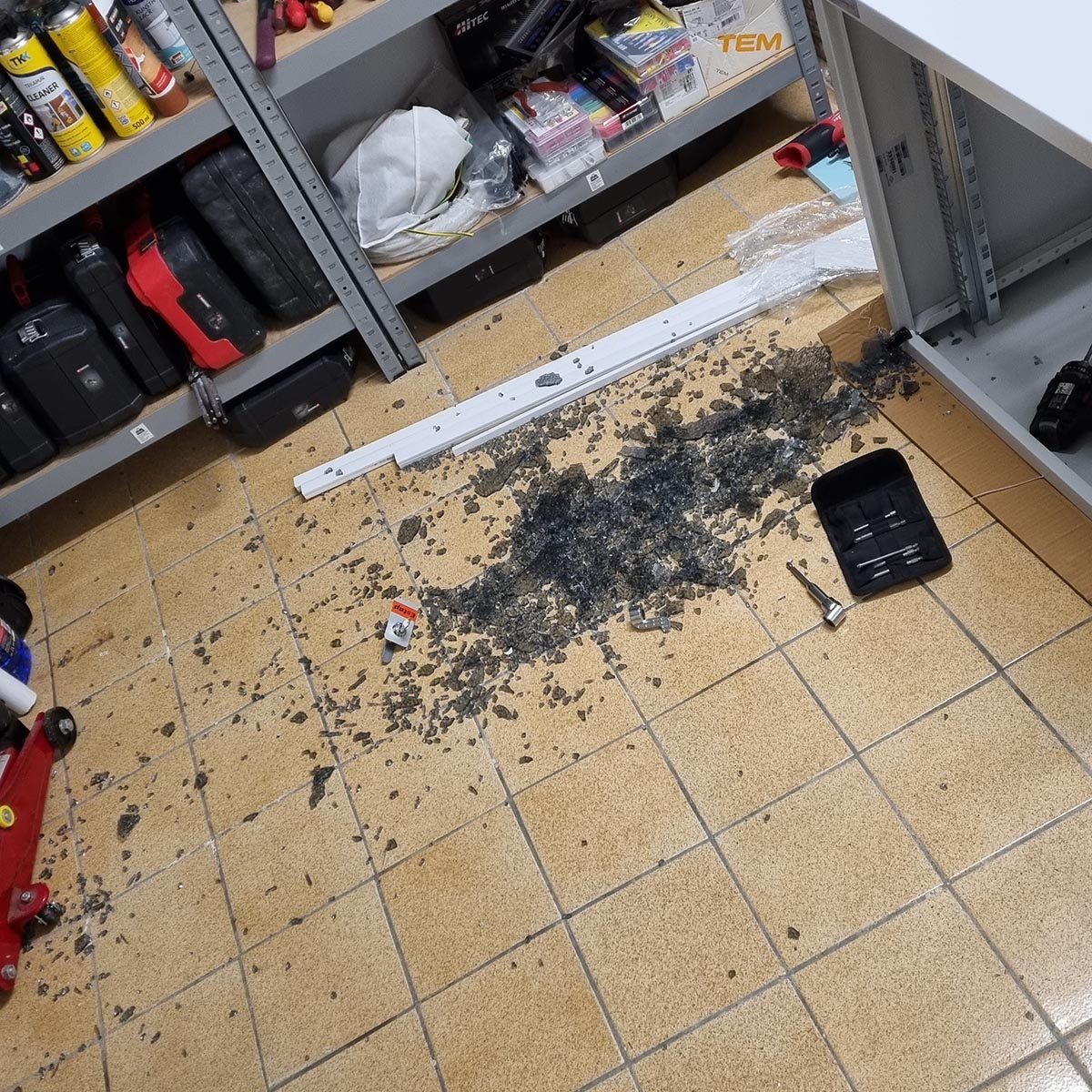 Did I mention, I broke the glass door before even installing the rack on the wall? Yeah, that's me.

The server has also been tested for 10gbps connectivity in the house which allows transferring 4GB files (using a write-cache of course - I have the plan to get UPS) in a matter of seconds. It is incredibly fast! I am hoping that I can get 2Gbps fibre internet at home as soon as possible, so I can also play around with 240mb/s download speeds!

Copying 4.1Gb Kubuntu 22.10 installation image (iso) to the server.
Overall, installing the wall-mounted rack and the pink fibre optic cables was a long-awaited and enjoyable project that I have spent a lot of time working on. It improved the functionality of my network and allowed me to learn more about IT and have some home fun. So, if you're looking for a way to improve your network, I recommend trying out a wall-mounted rack and some colourful fibre optic cables and maybe even consider building your own server. Just be prepared to face some challenges and be ready to find solutions for them.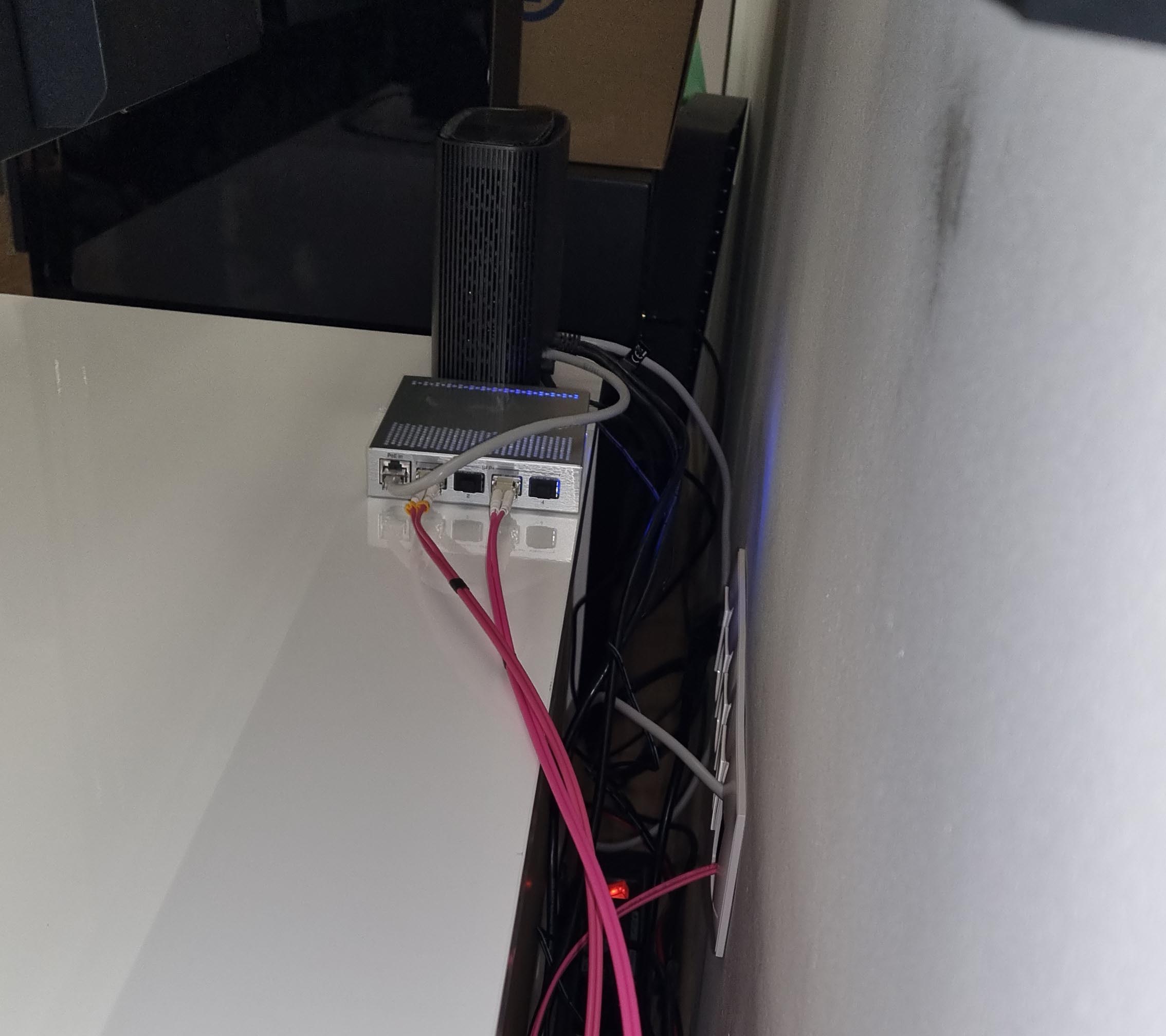 Mikrotik CRS305-1G-4S+IN (upper office fibre cable is not connected yet)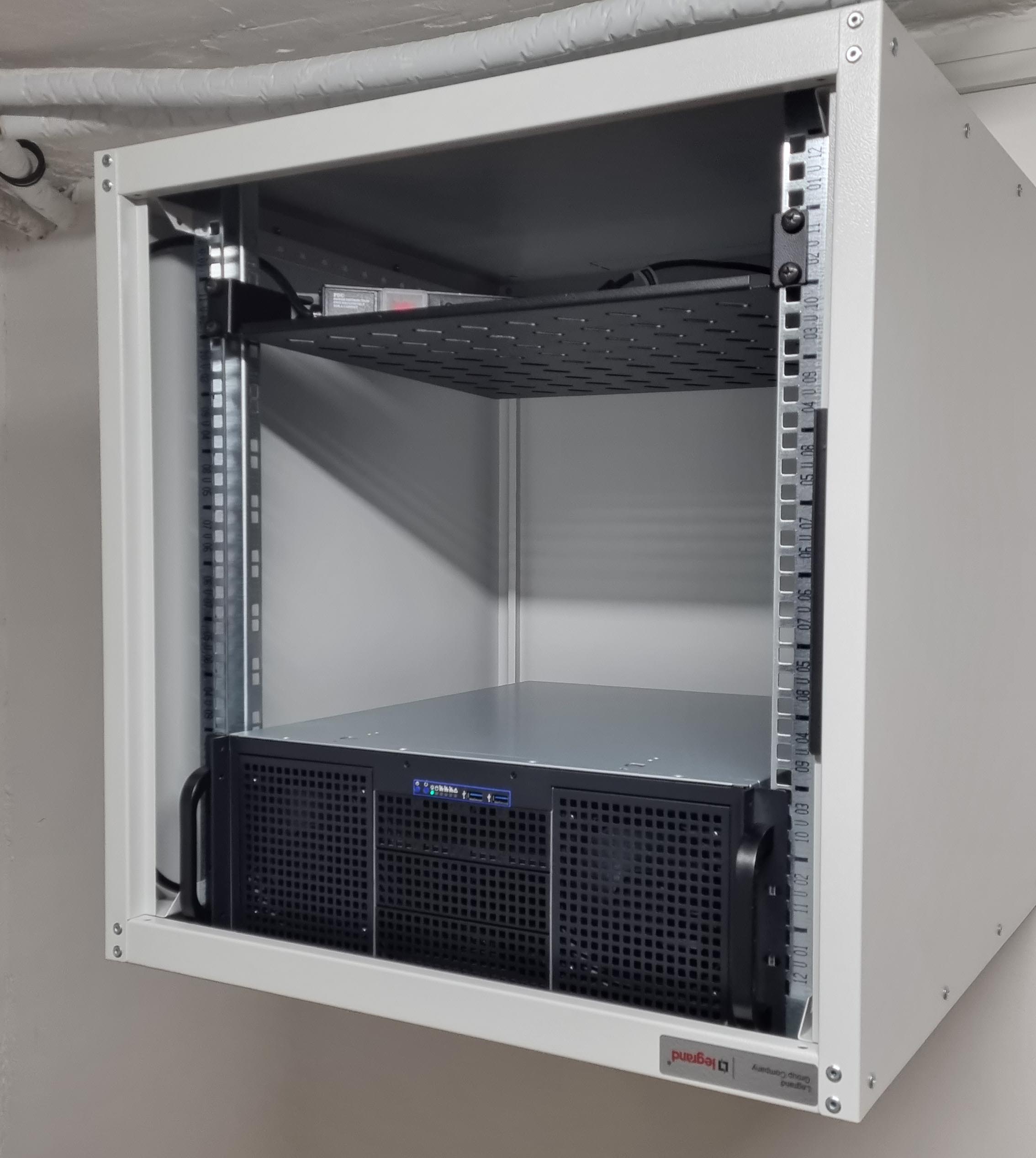 ---
---